Understanding Vein Disease
Learn about the different signs of venous insufficiency, discover our innovative treatment options, and find a vein specialist near you.
Request a Consultation
Think you Might be Suffering from Vein Disease?
Center for Vein Restoration is here to help. Spider and varicose veins are two signs of vein disease, and each of them can negatively affect the way you feel, look, and live. But with the right care from our vein doctors, you'll be back to normal before you know it.
Spider Veins
Often resembling spider webs or thin tree branches, spider veins are small, dilated blood vessels near the surface of the skin. They can be red, purple, or blue in color, and usually appear on the legs, chest, or face. Though they rarely indicate a serious health problem, spider veins on the legs can cause uncomfortable sensations and are a sign of underlying venous reflux, or "hidden varicose veins."
Much like varicose veins, spider veins are directly caused by a buildup of blood. Veins have valves that act as one-way flaps so blood doesn't flow downward with the pull of gravity, but if these valves become weak, blood can leak back down and collect, causing veins to enlarge.
Additional causes of spider veins include hormonal changes, exposure to sun without sunscreen, and pressure-inducing conditions like weight gain or tumors.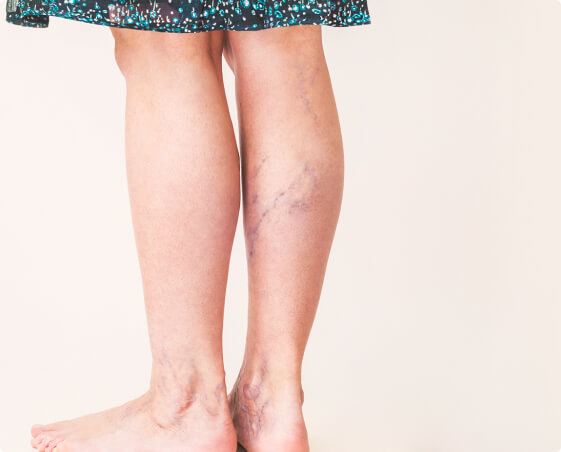 Varicose Veins
Varicose veins are visible, swollen veins, which tend to develop in the calf and groin areas of the leg. Blood pools in the vein, forcing it to expand, resulting in a twisted or knotted appearance. Because of the increased pressure in the vein, varicose veins are more likely to cause serious aching or throbbing pain, especially after sitting or standing for a long period of time.
Brought about by weak or damaged vein valves, the incidence of varicose veins is linked to heredity and obesity, though those alone aren't the only causes of this symptom of vein disease. People with occupations that involve prolonged periods of standing–such as nurses, hair stylists, teachers, factory workers, and men and women in the service industry–are more likely to suffer from varicose veins than anyone else.
The final factor that differentiates varicose veins from spider veins is that they can lead to more serious health problems, including sores or skin ulcers, bleeding, superficial thrombophlebitis, and deep vein thrombosis.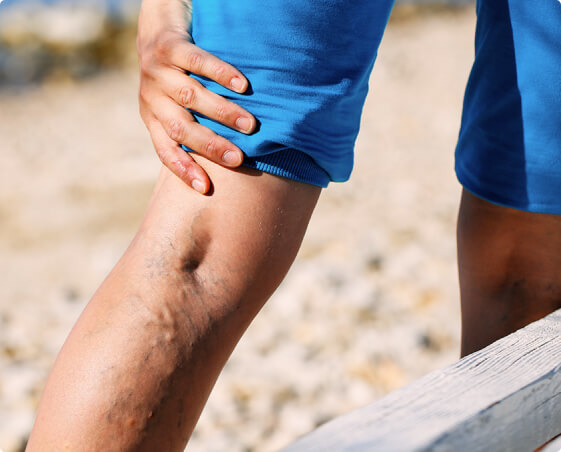 Fast, Minimally-Invasive Treatment for Vein Issues
Always striving to give our patients the very best vein care experience, our treatments for chronic venous insufficiency take less than an hour and, afterwards, our patients can go right back to normal activity with little or no pain. All Center for Vein Restoration treatments are simple, office-based outpatient procedures, providing a level of safety and reliability only possible with the experience and expertise of our vein specialists.
Signs and Symptoms of Venous Insufficiency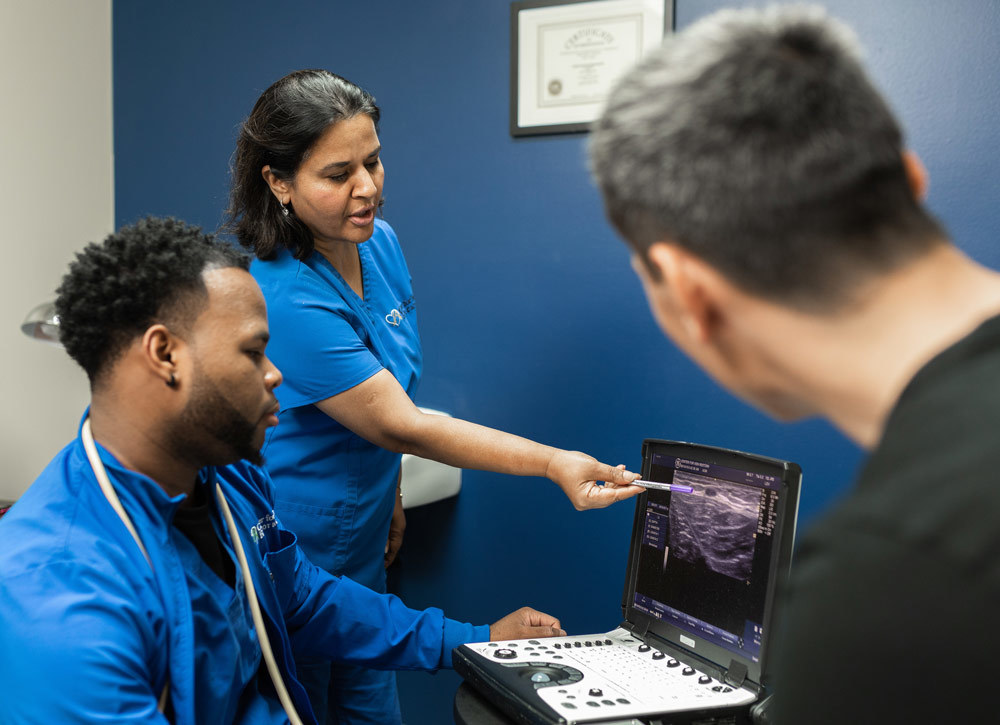 Spider Veins
Spider veins are typically red or blue, small, and found close to the surface of the skin. They get their name because they look like a spider's web, and most patients experience discomfort, swelling, rash, itching, or achy, restless legs.
Varicose Veins
Most often, varicose veins are dark purple or blue and look like twisted cords bulging from your skin. Typical symptoms include aching, burning, itching, swelling, and skin discoloration, as well as increased pain after sitting or standing for a long time.
The Sooner you Treat your Vein Condition, the Sooner you'll Have your True Legs Back
Vein disease often starts as minor discoloration or pain, but without treatment, what starts as a little discomfort can evolve into debilitating aches and pains. The sooner you begin changing your lifestyle habits and receive treatment, the sooner you'll be back to enjoying your normal, pain-free lifestyle. So, if you're experiencing any unsightly veins or abnormal leg pain, find a Center for Vein Restoration near you and schedule a consultation today.
Schedule a Consultation
"From a leg in pain with ropey, raised veins, to a leg in peace - not hot, not aching, and smooth as silk. I should have done it long ago!"