LYMPHEDEMA GUIDE: Thank you for choosing Center for Vein Restoration
WELCOME TO CENTER FOR VEIN RESTORATION
Thank you for choosing Center for Vein Restoration - our staff is committed to the long-term treatment and monitoring of your venous insufficiency, and any secondary conditions it may cause; such as lymphedema.
At Center for Vein Restoration (CVR), our primary focus is treating venous insufficiency, or vein disease, which occurs when there is a backflow of blood in a damaged vein. Untreated vein disease can lead to many more serious conditions, which is why our providers are trained to take a holistic approach to your vascular and lymphatic health. Lymphedema is painful, uncomfortable, and, in some cases, chronic. However, with appropriate monitoring and treatment, it can be managed.
Please remember that long-term follow-up is essential to maintaining your legs' health. As with treating your venous insufficiency, treating your lymphedema will be a journey that you, CVR, and our network of clinical partners must embark on. For optimal results, we must both keep our respective promises.
The promises we seek from you include lifestyle changes if warranted, the use of compression stockings when indicated, and that you keep your appointments. During the course of your treatments, there may be times when you debate the need to call your doctor or nurse after hours. Instead, follow this simple rule: "When in doubt, always call."
We're proud to offer the most advanced and patient-focused diagnostic and therapeutic methods for treatment of your venous insufficiency and related conditions. But, more importantly, we are committed to always being available to our patients.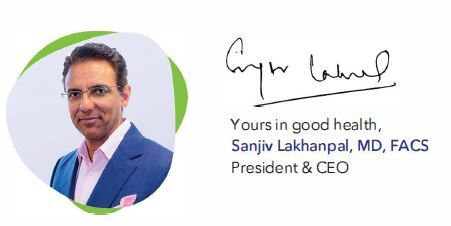 WHY CENTER FOR VEIN RESTORATION?
Since 2007, Center for Vein Restoration (CVR) has been a leader in the diagnosis and treatment of venous insufficiency (vein disease)-in fact, veins are our sole focus. We are continuously redefining the care of patients with venous disorders by providing comprehensive vein care throughout the United States in an environment of clinical excellence, integrity, mutual respect, and trust.

Concierge-level care, always delivered with a smile. From your first call to your final check-up, it is essential to us that you have
a pleasant, efficient, and professional experience. We have earned a 98% patient satisfaction score over the last 10 years
as a result of providing the highest level of care.

We impact the lives of over 200,000 patients annually. We conduct more vein procedures than any other vein clinic or hospital. Our practice, the largest of its kind, is built on experience, expertise, and trust. Our team of board-certified physicians and vein care specialists will provide the safest, most positive treatment outcomes.

Our complete treatment plans are personalized to your clinical need and insurance requirements. Our doctors are trained in all modern vein closure modalities, including the newest non-thermal technologies, such as Varithena and VenaSeal. The best choice will be made to match your needs.
Thank you again for choosing Center for Vein Restoration for your complete vein care. We are honored to serve you.
WHAT IS LYMPHEDEMA?
Normally, your lymphatic vessels carry waste fluid (which contains unused proteins and nutrients, or bacteria and waste) for breakdown in the lymph nodes or filtering in the heart. When the lymphatic vessels fail, lymph fluid accumulates, causing chronic swelling.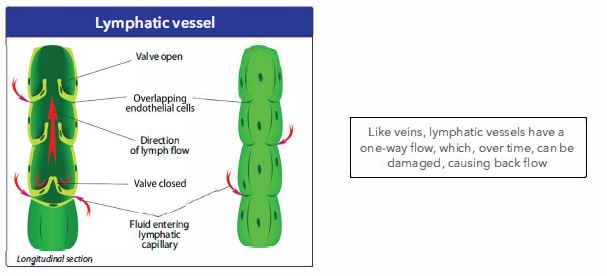 Over time, this fluid can become hard and cause the limb to feel heavy. Lymphedema most often develops in one arm or leg. It can also occur in the hands, feet, chest, back, neck, face, abdomen, or genitals.

CAUSES OF LYMPHEDEMA
Lymphedema is caused by the damage, removal, or malformation of the lymph nodes or lymph vessels. Causes can include:
Untreated Chronic Venous Insufficiency (CVI)
Bodily injury
Deep Vein Thrombosis (DVT)
Hereditary birth defects
Cancer treatment (Radiation/Surgery)
Infections (Cellulitis)
Obesity
Certain heart conditions
SIGNS & SYMPTOMS
The first obvious sign is "pitting" in the limb - when the skin is depressed for a few seconds and the indentation does not immediately disappear.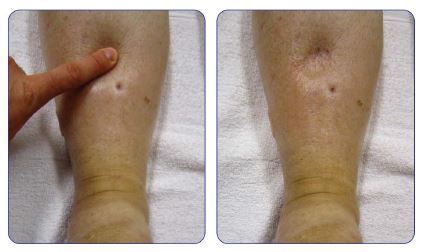 Other symptoms include:

Swelling
Stiffness
Heaviness
Weakness
Firmness/Tightness/Fullness
Decreased flexibility
Numbness
Changes in skin texture or color
Tenderness
Aching
THE LYMPHATIC SYSTEM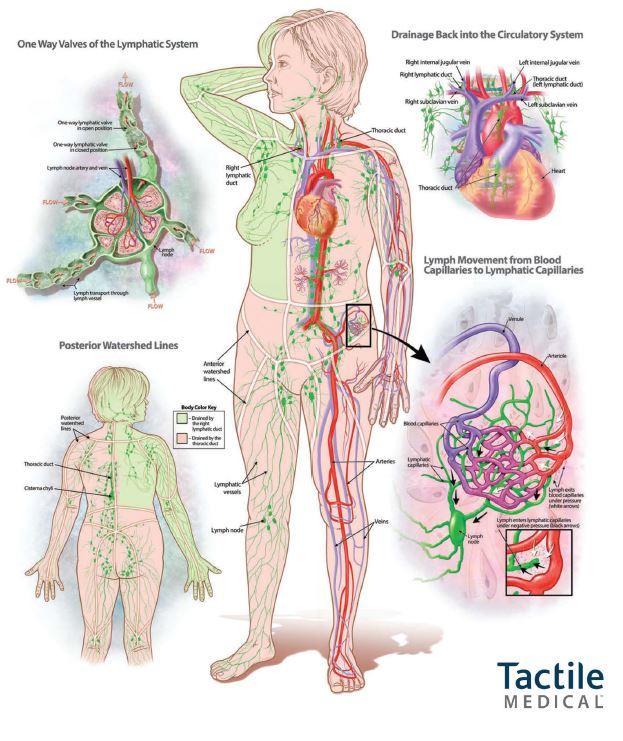 LYMPHEDEMA VS. VENOUS EDEMA

Venous edema and lymphedema have similar signs, symptoms, and causes, and are often treated with some of the same modalities. However, they present and progress in different ways.
VENOUS EDEMA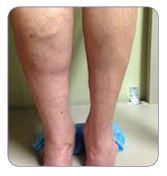 Venous edema is swelling that cannot be accommodated by a normal lymphatic system. It can be unilateral or bilateral. If bilateral, it tends to be asymmetric. There is pitting. It also may have associated clinical signs: spider veins, varicose veins, hyperpigmentation, or venous ulcers.

LYMPHEDEMA

Lymphedema is swelling resulting from lymphatic dysfunction. It can be unilateral or bilateral, and is positive for "Stemmer's" (a thickened fold of skin at the base of the second toe that can be gently pinched and lifted).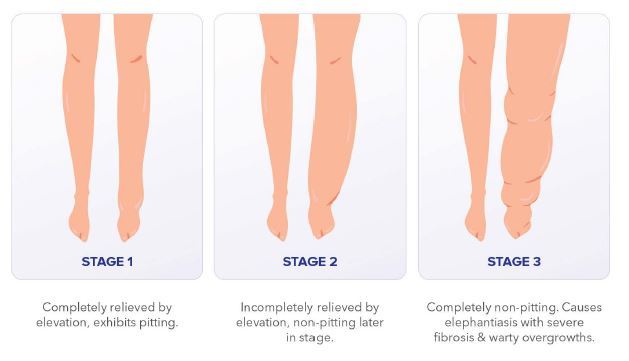 WE'RE HERE TO HELP
While lymphedema is chronic, it is manageable. Our team can help you treat one possible underlying cause (CVI), prescribe compression garments, provide wound care, advise you on helpful lifestyle changes, and connect you with lymph drainage specialists'.
TREATMENT SUCCESS STORIES
In 12 months, with a combination of vein treatments, diuretics, complete decongestive therapy, and exercise, this patient saw an increase in mobility and significant reduction in leg circumference.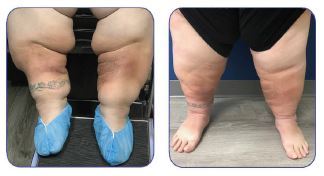 After 8 months, with consistent lymphedema therapy, compression bandaging and a pneumatic compression pump, this patient saw a significant decrease in her swelling . She continues to use her compression devices daily, and has used skin care and weight loss to also improve her outcomes.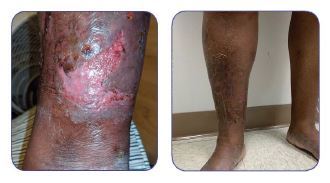 Over a period of 6 weeks, this patient went from wounds leaking fluid and swelling to healed legs and well-managed swelling . The key to his treatment was a stent, compression wrapping with absorbent wound dressing, consistent skin care, weight management and compression stockings.
TREATMENT OPTIONS
Step 1: Treating the Underlying Cause
Chronic Venous Insufficiency (CVI) is one of the most common secondary causes of lymphedema, and late stage CVI can result in venous edema. Our board-certified providers are trained in all modalities of treatment for CVI and can work with you to develop a treatment plan that fits your case, lifestyle, and insurance requirements. Treatments for CVI include endovenous ablation (with either a radiofrequency catheter or laser fiber), the use of medical adhesive, and ambulatory phlebectomy (a minor, noninvasive surgical procedure wherein the vein is extracted through tiny incisions). You can learn about all our treatment options at centerforvein.com.
Step 2: Complete Decongestive Therapy (CDT)

CDT consists of five components: manual lymph drainage, compression bandaging, exercise, skin and nail care, and instruction in self-care of lymphedema. There are two phases to the therapy- the first phase is more intense and performed in-clinic and will involve seeing a certified lymphedema therapist. The second phase is an at-home regiment of self-care which you will have to maintain to keep your lymphedema managed.
CDT COMPONENTS
The overall goal of CDT is to push excess fluids out of the effected extremity, thereby reducing the size of the limb and preventing damage to the skin. CDT is a life-long commitment. With motivation and therapy compliance, your lymphedema can be managed.
MANUAL LYMPH DRAINAGE (MLD)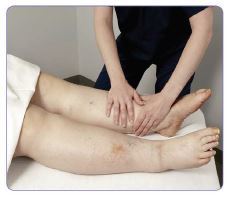 MLD is a combination of different light massage techniques performed by a lymphedema therapist during phase one of treatment. These massages help the lymphatic vessels absorb or redirect extra fluid and can help build a new pathway for the fluid to travel. MLD takes about 45 minutes per limb, and the effects last about 3-4 hours after treatment is finished.
COMPRESSION BANDAGING/GARMENTS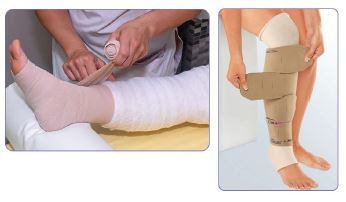 Your certified lymphedema therapist will wrap your affected extremity with a less-elastic version of ace bandages and several layers of foam inserts extremity. The bandages should be worn as long as possible to help keep the fluid moved in MLD out of the limb and help break up any hard-fluid accumulation. In phase two of your treatment, your therapist will fit you for a compression garment.
EXCERCISES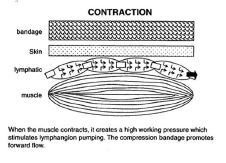 Muscle contractions squeeze body tissues and help move lymph fluid through the body, while aerobic exercises help drain it. Your lymphedema therapist will work with you to create an individualized exercise program you will be able to perform while wearing a compression garment.
SKIN & NAIL CARE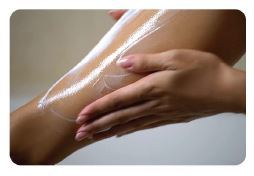 You and your lymphedema therapist will discuss skin and nail care throughout your treatment, as people with lymphedema are at a heightened risk for developing infections. The skin of the affected limb is usually dry and may crack easily. A low-pH, fragrance and alcohol-free lotion, as well as sunscreen, should be used daily. Skin should be monitored constantly for any cut, bug-bite, or burn. Nails should be kept clean and blunt (to avoid self-injury).
SELF-CARE
Once the intensive, in-clinic phase is done, you will be taught and able to perform MLD on your own by your lymphedema therapist. Once you have a fitted compression garment, it must be worn all day, every day, and replaced every 6-to-12 months. Obesity not only causes lymphedema - it also complicates it, so a healthy diet is essential for long-term management.
Maintaining activity will keep the calf muscle strong - increasing the natural compression effect. As part of your self-care, it is important to avoid anything that could cause a blockage or retention of fluids (such as tight-fitting clothing, or prolonged exposure to heat) and preventing infections or injury to the effected extremity.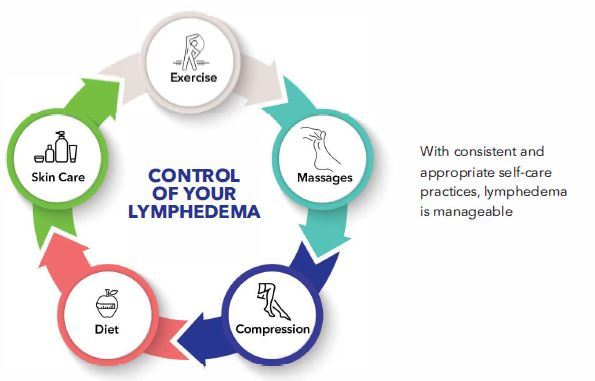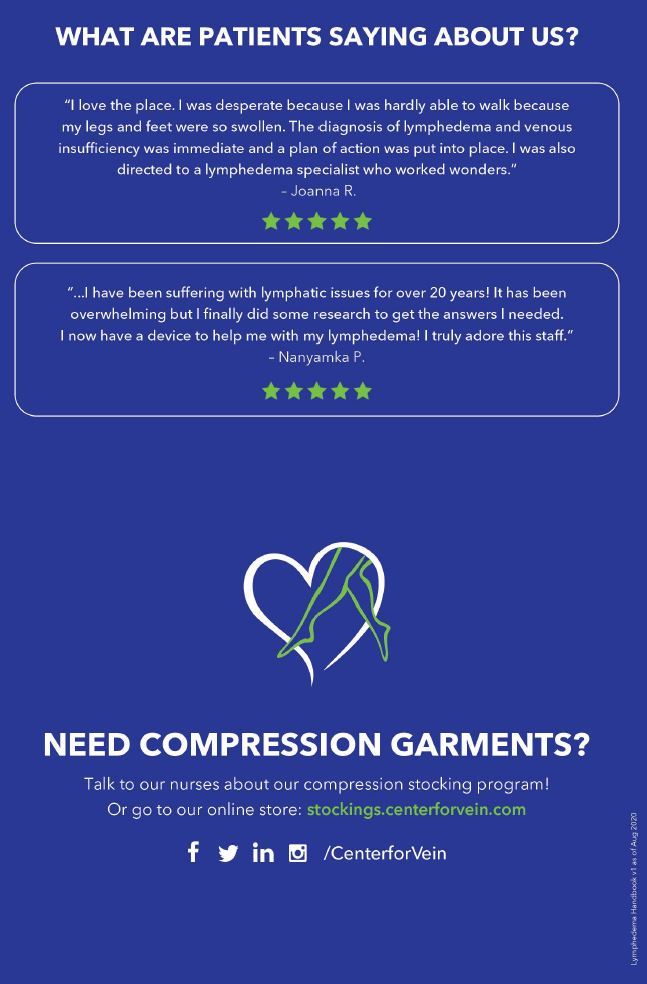 ---