Vein Glue vs. Laser Treatment for Varicose Veins: Which is Better?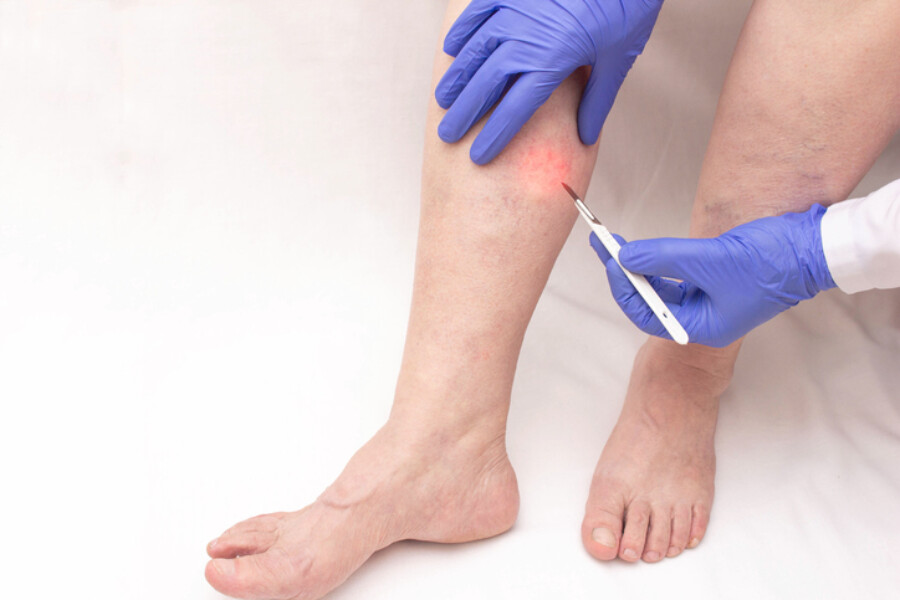 Laser ablation and vein glue have been used successfully in treating varicose veins for years. So is one better than the other? Learn the differences below.
Far from being a cosmetic issue, varicose veins can indicate a problem within your veins. When the valves in your leg veins stop pumping blood to the heart adequately, the blood that pools in the veins lead to significant swelling and pain. But you don't have to live with the discomfort and unsightly appearance of varicose veins with many treatment options available today.
Two of the most popular and effective are endovenous laser ablation and VenaSeal, which uses a medical-grade glue to treat the vein. Which one you decide to undergo depends on the size of your varicose veins, your preference, and the recommendation of your vein specialist. To help you understand each method, here's a breakdown of the differences between laser treatment and vein glue.
Laser vs. vein glue
Both laser and vein glue eliminates a bulging vein by cutting off its blood supply. Blood then flows to nearby healthy veins, and the treated vein slowly shrinks. Even though each technique uses a different method to achieve that goal, both have been successfully used for decades to treat varicose veins.
Laser Ablation. Laser ablation best treats large varicose veins within the great saphenous vein.
Laser ablation begins with an injection of anesthesia around the affected vein. Then, guided by an ultrasound image, the vein specialist inserts a thin laser fiber into the vein. Short bursts of heat from the laser collapse the diseased vein.
The entire procedure will take about an hour. Afterward, your doctor will recommend that you wear compression stockings and walk around regularly to encourage circulation in the veins. You should also keep the incision area dry for 48 hours. Otherwise, you can return to your normal activities. Following the procedure, you may experience minor bruising or a tight sensation in the leg, but these minor discomforts will quickly resolve.
Vein Glue. Also known as VenaSeal, vein glue is a medical adhesive used to treat varicose veins since 2015, making it a newer innovation in vein care. The adhesive, n-butyl-2-cyanoacrylate, has been approved for use on humans. Large varicose veins with a diameter of two centimeters or more, or varicose veins located deeper in the leg, can benefit from VenaSeal.
Like laser ablation, the glue is delivered through a tiny catheter inserted into the vein. Because few incisions are needed, local anesthesia isn't required. The adhesive seals the vein shut as the vein specialist applies gentle pressure to it. The vein eventually collapses as the blood drains from it. Since only a small amount of the adhesive is used, your body will quickly and safely absorb any excess solution. Because few incisions are needed, local anesthesia isn't required.
The procedure should take no longer than an hour. You may notice slight tenderness, bruising, bleeding, or swelling at the injection site for a few days. Your doctor may also recommend you wear compression stockings following VenaSeal to promote healing. Because VenaSeal doesn't use heat, it presents less chance of nerve damage in the small saphenous veins.
So which is better?
Both laser ablation and VenaSeal will rid you of painful, swollen varicose veins. Your doctor will suggest the method offering the best chance for a favorable outcome in your individual case. The deciding factors will be the location and size of your varicose veins.
Varicose veins may indicate a severe vascular disorder requiring treatment. Untreated varicose veins can lead to serious complications, including skin ulcers and dangerous blood clots. Whether you undergo laser ablation or VenaSeal, your veins will be healthier after treatment.
The time to heal your veins is now
Center for Vein Restoration (CVR) operates three locations in the Phoenix, Arizona, area, including Gilbert, AZ, Mesa, AZ, and Phoenix, AZ. Each office offers a full spectrum of vascular services, including treatment for varicose veins with laser ablation and VenaSeal. The experienced physicians who lead our Arizona offices are experts in both procedures.
Jeffrey Alpern, DO, is a board-certified cardiovascular and thoracic surgeon with more than 40 years of medical experience. Nick Morrison, MD, FACS, FACPh, is a board-certified general surgeon in Venous and Lymphatic Medicine. Soohyun Kim, MD, RVT, brings her expertise as a vascular surgeon to treating vein disease.
Contact their offices today for a consultation, or call 1-800-FIX-LEGS to speak to a dedicated Patient Services Representative. You can also easily schedule online.
3509 S. Mercy Road Suite 101
Gilbert, AZ 85297
1500 S. Dobson Road, Suite 310
Mesa, AZ 85202
9515 W. Camelback Road
Suite 108 Phoenix, AZ 85037

---